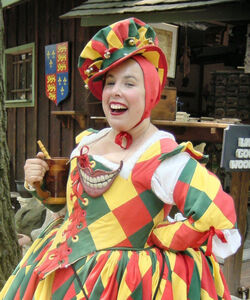 Ann-Elizabeth Shapera is an actor, singer, musician, storyteller, comedian, teacher and professional court fool, and the Official Municipal Jester of the City of Milwaukee (with many thanks to the esteemed Jim Owczarski and help from her husband Tom Charney).
A 16-year veteran of Renaissance festival street performance around the country, trained originally by Ron Scot Fry, Eric Forsberg, Jimmy Ellis, Carol Black and Tim Ferguson, she was one of the most recent Directors of Street Theatre for the Bristol Renaissance Faire in Bristol, Wisconsin.
As of 2005, she has trained seven graduating classes of the Bristol Academy of Performing Arts in street theatre, improvisation, and Elizabethan living.
Performance History
Edit
Molly McClean (1991-92)
Edit
In 1991 and 1992, she played Molly McClean, one half of the Bristol troupe the Wash Well Wenches, with Stephanie Draus.
Jane the Phoole (1993-present)
Edit
see Jane the Fool for historical info
Since 1993, she has played Jane the Phoole, Queen of Jesters and Jester to the Queen, based on a real-life jester to Queen Elizabeth I.
As played by A-E Shapera, Jane the Phoole wields Mr. Whackes (her oversized, leering marotte), bellows from balconies, subverts the dominant paradigm, is the Royal Lemur-Keeper, and is the Official Municipal Jester of the City of Milwaukee (kudos to Jim Owczarski and Tom Charney).
Background Outside of Faire
Edit
She has been performing for 25 years. Under an acting merit scholarship at Northern Illinois University, she trained in Linklater vocal technique, studied historic period costuming, and learned mime, juggling, fencing, stage combat and commedia dell'arte movement from the legendary Bill Lengfelder. While there she appeared in, among many productions, Marat/Sade (chorus) and The Merry Wives of Windsor (Bardolph). She has taken part in many fringe-stage and environmental/street theatre events around the world, including Push & Shove Inc.'s 2000 production of Red Noses at Stage Left Theatre in Chicago.
External Links
Edit