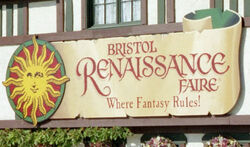 The Bristol Renaissance Faire (or BRF) of Kenosha, Wisconsin has been around for nearly thirty years, offering fine arts & crafts with food and entertainment of 16th century England. Bristol Academy of Performing Arts (or BAPA) auditions are held late spring. It runs for 9 weekends during the summer.
It started in 1973 as King Richard's Faire. It moved to its current site in 1976. In 1988, it was purchased by the Renaissance Entertainment Corporation and renamed the "Bristol Renaissance Faire," connecting it to the unincorporated Wisconsin town of Bristol it resided next to and the factual English port city of Bristol.
The Faire seeks to historically recreate the world of Bristol, England on the day that Queen Elizabeth visited the town on her summer progress in 1574.
Guilds and Troupes
Edit
The Guilde of St. Lawrence cooks an affordable meal for the cast and crew of the Bristol Renaissance Faire and emulates the middle class merchants and townsfolk.
The Guilde of St. Michael presents the impression of a militia of England prior to the onset of the first Spanish Armada.
Bristol Buskin Frolic are the high-energy citizens of Bristol that perform dancing, mummers plays, and music for the patrons.
Street Performers are larger-than-life characters that interact with the Faire patrons on the streets of Bristol.
By the Sword is the troupe of the fighters who encounter each other on stage and in the streets.
Towne Criers are the official Ambassadors to the Faire, usually announcing the latest historical news or sometimes introducing a stage act.
Musicians are the musical performers providing (usually) period acts on the stages and streets of Bristol.
The Fantastickals are the fantasy creatures that bring an element of wonder to the land of Bristol.
RenQuest is a live action fantasy-themed role play that began at Bristol in 2008
Past Guilds and Troupes
Edit
Internal Links
Edit
Category list for Bristol Renaissance Faire
External Links
Edit