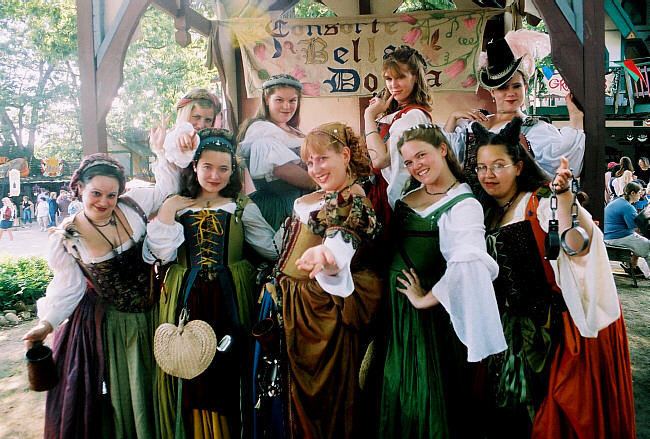 The Consorte Bella Donna was a [musicians (Bristol)|musical] act of female madrigal singers that performed at the Bristol Renaissance Faire from 2000 until 2004. They were known as "The Bellas" for short.
In 2000, these madrigal singers were co-directed by Jon Krivitzky and Stephanie Lewin. The group wasn't planned to be just women, but the lack of male singers at auditions made it a necessity. The name Consorte Bella Donna was "borrowed" from a previous idea Lewin had for an all-female group of traveling trouveres based on an actual italian court group called the Concerti di Donne.
In 2001, Lewin joined the group and directed with assistance by Brenda Kelly. In 2002, the group based its characters on Commedia Dell-Arte characters. In 2003, they started a courtezan theme and grew to ten members. Their final year was 2004.
2000 Cast
Jon Krivitzky (Director)
Stephanie Lewin (Director)
Tiffiny Bjorkman as Rosiere
Christy Patrick as Aeval
Sonnett Shelline as Aestein Odvaha
Sherry Sink as Marina Blu Scuro

2001 Cast
Stephanie Lewin (Director) as Fern Undergrove
Brenda Kelly (Assistant Director) as Mara Supial
Laura Bultman as Isabel Lerner
Danielle Lennon as Nora Essex
Jennifer Lennon as Constance Cooney
Sandy Memmel as Rowan Meriwether
Tess Romeis as Fiona Meriwether
Sonnett Shelline as Aestein Odvaha
Sherry Sink as Marina Blu Scuro

2002 Cast
Stephanie Lewin (Director) as Lady Fern Smart
Alissa Berg as Brighid DeVyl
Nicole Lorraine D'Asta as Mistress Gabriella Pinchpenny
Lisa Marie Jelinek as Ambrosia LeCoeur
Robyn Nadolny as Bianca Nerissa Cordelia Rapscallion
Sandy Memmel as Bonni Simple
T.C. Safavi as Columbina Carranza

2003 Cast
Stephanie Lewin (Director) as Katherine Virago
Sandy Memmel (Assistant Director) as Desdemona Moor
Jayne Spottswood as Audrey Atlee
Nicole Lorraine D'Asta as Miranda Morgan
Lisa Marie Jelinek as Ophelia Askew
Julie Laureano as Beatrice Nhymblequicke
Clare Martin as Rosalind Rechter
Robyn Nadolny as Juliet Capulet
Ellen Sieg as Hermia Linwood
Melissa Smithson as Mistress Virginia Quickly
David Barber as Puck

2004 Cast
Stephanie Lewin (Director) as Katherine Virago
Sandy Memmel (Assistant Director) as Maria Montague
Annie Butler as Hero Blythe
Nicole Lorraine D'Asta as Miranda Morgan
Clare Martin as Rosalind Rechter
Robyn Nadolny as Juliet Capulet
Ellen Sieg as Hermia Linwood
Melissa Smithson as Helena Linwood (one weekend)
David Barber as Dromio


External Links
Edit