Welcome to the Renaissance Faire Wiki, a Renaissance Faire database that anyone can edit.
In this wiki, started on September 30, 2005, we are currently working on 200 articles.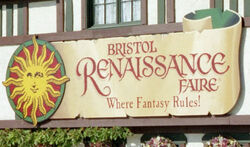 Welcome Rennies! This be the place to post info about your local faires, favorite performers, and any other faire related things for the benefit of the uninformed out there. Huzzah and a good day to you all!
Wikipedia page on Ren Faires
For a list of Renaissance Faires talked about on this wiki: Renaissance Faires