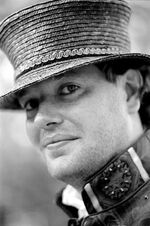 Matthew McMillin (aka Matt McMillin) has been a performer at the Bristol Renaissance Faire since 1994.
From 1997 through 2000, he spent his summers in the U.S. Military and the Virginia Renaissance Faire.
In 2004, he was put in charge of the Towne Criers and was officially given the title of Director in 2006.
Performance History
Edit
Glimmer Swift (1994-95)
Edit
For his first two years, he played Glimmer Swift. In 1994, he was a member of the Scrivener Dance School and in 1995, he was a member of the Guilde of the Addled Pate. Glimmer was the big womanizer.
Patch Padfoot (2001-03)
Edit
He returned to Bristol in 2001 as a member of Kids Kingdom in the acclaimed role of Patch Padfoot.
Patch was special because he thought he could be anything at any time. If you asked Patch if he was a tank, he would be a tank. If you asked him if he was a flag, he was a flag. He was the ultimate "Yes And" character.
He hailed from the Schwartzwald in the Germanies. He was the self-proclaimed Holy Roman Emperor of the Puppy and Kitty Nation. He would often act like a puppy dog.
His half-twin brother was William Nilly and his cousin was Isabell Noisy.
Randall Roarback (1996, 2004-present)
Edit
Back in 1996, Matt became part of the Street troupe, the Bristol Rabble Rousers, where he played Randall Roarback. Since 2004, he has led the Towne Criers as a new version of this old character.
Randall is egotistical, but thinks the world of Her Majesty. He is embarrassed by what he sees as fools running and living in the town of Bristol, so he does his best to make the town seem pleasant for the Queen's visit.
McMillin got the name "Padfoot" from the Harry Potter books, where the Marauder's Map was created by "Moony, Wormtail, Padfoot, and Prongs".